1.Club Cubana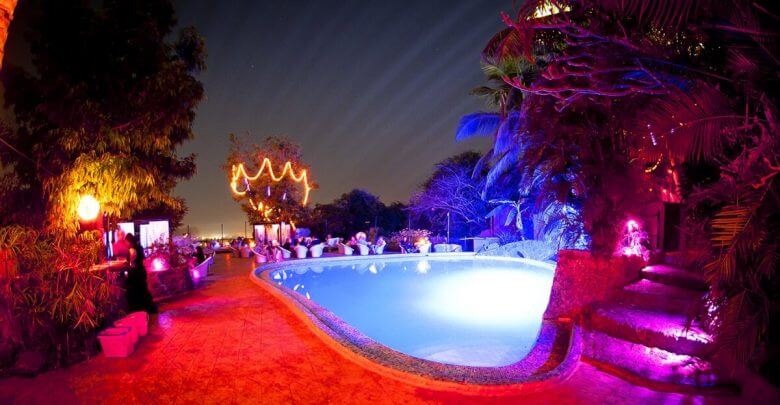 Club Cubana, with its hilltop location, is referred to as the "Nightclub in the Sky". This very popular club has been around for more than a decade and is dominated by the swimming pool and Jacuzzi in its center. The venue accommodates 3,000 people and the party goes on until dawn. Expect to pay 2,000 rupees entry for couples and 1,500 rupees for single guys. The price includes unlimited alcoholic drinks. Ladies' Night on Wednesdays and Models' Night on Saturdays are two of the biggest events there. If you're into rap and hip hop, Club Cubana in Arpora is where you should be. It is apparently the only club in Asia that remains open until the last person goes home.
Location:Arpora hills.
Open:October to April.
Music:House, hip hop, and R&B
2.LPK Waterfront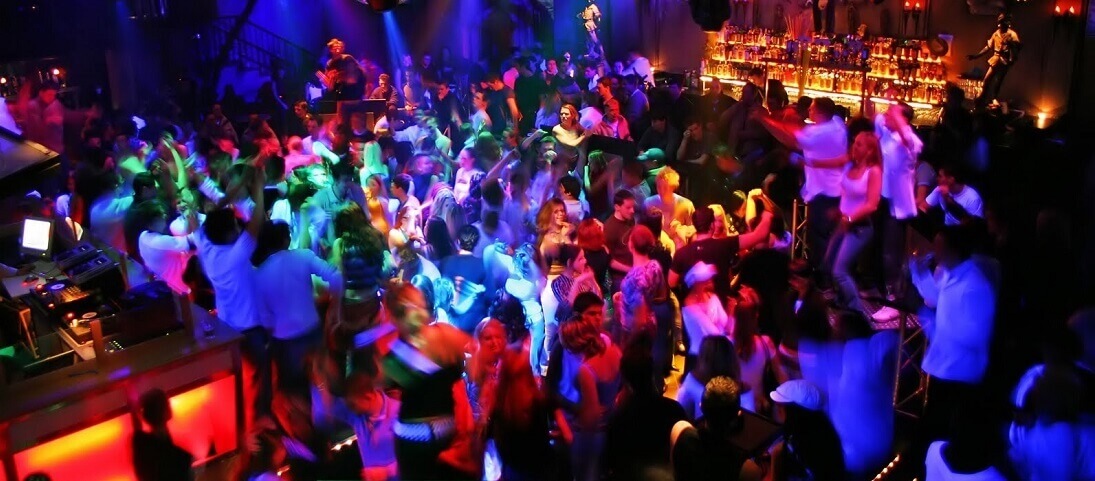 Unique wedding venue LPK Waterfront is home to "India's first super club" -- Club LPK (Love, Passion, Karma). Set on the banks of the Nerul river and surrounded by two lakes, the off-beat architecture will astound you. The venue has been made almost entirely of mud and stone and has a cavernous dance floor. Add to this, terracotta statues and a 400-year-old Portuguese church in the background. A strict entry policy ensures a decent crowd. Expect to pay 1,500-3,000 rupees entry for couples, with drinks included. Single guys are not encouraged. The party really gets going after midnight. While walking through the premise, one gets the feeling of entering an ancient tribal abode with a high-tech club in the middle of this zone.
Location: Inland Candolim.
Open: All year round.
Music:House, Bollywood and commercial.
3. Club Tito's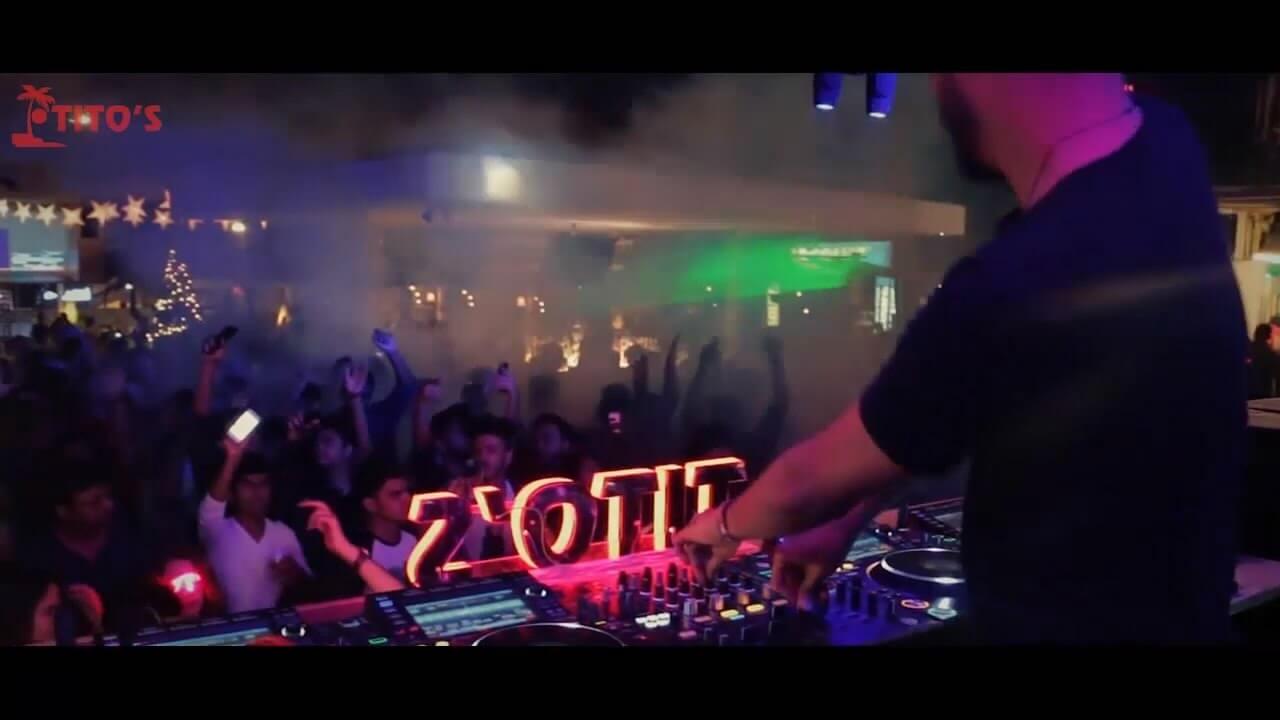 Easily one of the most recognised names among night clubs in India and a place where every DJ worth his salt plays at some point, Tito's in Baga is the favourite carousing spot for vacationers in Goa. The brand which has extended to Tito's Courtyard and Mambo is so famous that the entire stretch leading off the main road down to Baga beach has taken on the eponymous label 'Tito's Lane'. Living up to expectations, Tito's nightclub provides clever touches; mirrors reflect fascinating images of the ever-throbbing clutch of people. The club with an entrance of its own has reinforced shatterproof glass walls to contain the sound of the music which is mainstream commercial. It plays host to a lot of Indian as well as international brands. They specialize in playing Bollywood and commercial music and are open 6 days a week except Monday between 9:30pm to 3:00am. The entry fee is 1500 for couples and stags. The place boasts of great interiors and a massive dance floor along with 2 bars. Wednesday is ladies' night where ladies drink and enter for free. The bartenders perform fabulous tricks as they serve drinks and the servers move around in roller blades.
Location: Tito's lane, Baga.
Open: All year. (not sure)
Music:Bollywood and commercial.
4. SinQ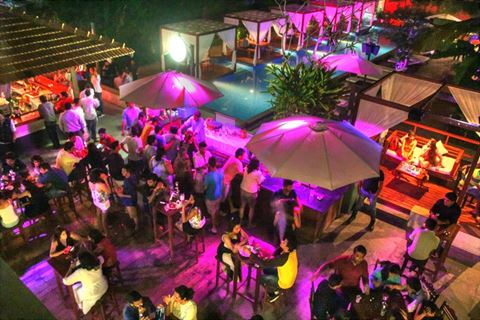 A one-stop party destination, SinQ consists of a party resort with 20 suites, and a beach club with expansive indoor and outdoor areas for night and day partying. Catering to around 4,000 guests, facilities include a state-of-the-art nightclub, swimming pool with lounges and bar, and a tavern. Notably the resort's suites have sound systems with live feeds from the DJ consoles! There are different events on different nights, from Wednesdays to Saturdays. Best place in Goa to party.
Located in Sinquerim, SinQ is built with a very modern theme and contains four entertainment zones, namely; a chic nightclub, a contemporary Goan tavern, a poolside deck and a lounge. It is one of the newest clubs in Goa which charges an entry fee of rs.1,500. for couples and rs.3,000 for stag entry with unlimited supply of high quality drinks to quench your thirst.
Location:Sinquerim, Candolim.
Open: All year round.
Music: Mostly commercial
5. Liquid Sky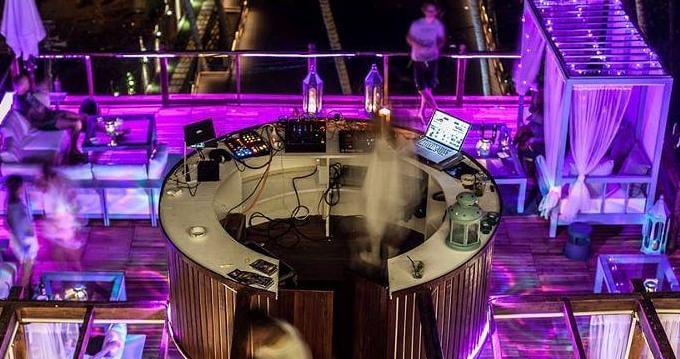 Disco on the mountain…This is how we can briefly describe the Liquid Sky Club in Aswem city resort. Dances in the open air under the charming light of Goa moon are as much popular as usual parties in air-conditioned underground premises and indoor clubs. Such outdoor nightclubs, as the Liquid Sky Club, have good reputation and are very popular among fans of dances and fun on Goa coastline.
DJ's with a diverse repertoire (trance, minimal, techno, tech-house, etc.), artists, designers and performers, a place where colourful thematic music parties, extravagant performances and fashion revues are conducted all the time.
Location: Aswem City Resort
Open:All year round
Music:Varied
Among the large number of things to do, nightclubs in Goa are the main reasons for a huge influx of tourists into this tiny coastal state. The discos, clubs and pubs in Goa provide a state of the art clubbing experience to its clubbers and quality music mixes.
The best time of the year to come to Goa and have a blast is during the winter, right from November till February and just before the monsoons. It's the time to go wild, with the crowds just swarming in to Goa to have a good time. All you party lovers out there will just love this time of the year! To explore Goa fully with Bike on Rent in Goa you need to call up 730-333-8800 or Car Rental Visit Car Rental in Goa Airport
Where in Goa? Everywhere!